Bazaar Edinburgh 2012

This page offers an agenda for the 3 day Bazaar development event in Edinburgh 1-3 August 2012.
Location: EH9 1PR
Over the course of the days the aim is to test, document and better represent our selves in the bazaar store where things are already a little messy (slap wrists people). Through testing of packages we need to improve descriptions, icons and compliment the packages with screen shots to help our users.
Day 1 - Wednesday 1st August 2012
11:30 - A Simple Start, take the easy packages and improve and screen shot them.
12:30 - Lunch
13:30 - Complex Bazaar Package Testing
The idea here is to test the more complex packages (those that require dependencies outside of those needed by eprints) and work out how to best support our "one click" users in installing these packages. Additionally we should looks for packages that need config and make sure they have a "config" link!. These packages include:
Coversheets
Preservation Toolkit
Tweepository
Open Office Toolkit
Day 2 - Thursday 2nd August 2012
09:30 - Bazaar Store Upgrades & Package Testing
Put all the stuff from yesterday in the store.
Screenshots
Dependencies
Descriptions
Icons

11:00 - Languages Packs
Take the language packs from files and put them in the store.
12:30 - Lunch
13:30 - Package Fest
Day 3 - Friday 3rd August 2012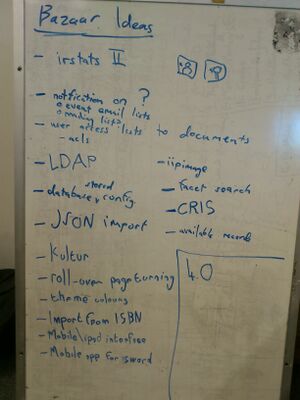 Attendees
Les Carr - University of Southampton
David Tarrant - University of Southampton
Tim Brody - University of Southampton
Patrick McSweeney - University of Southampton
Matthew Taylor - University of Southampton
Adam Field - University of Southampton
Please add your name ...